How to resize image to 720p or 1280x720
Published: - 5 min read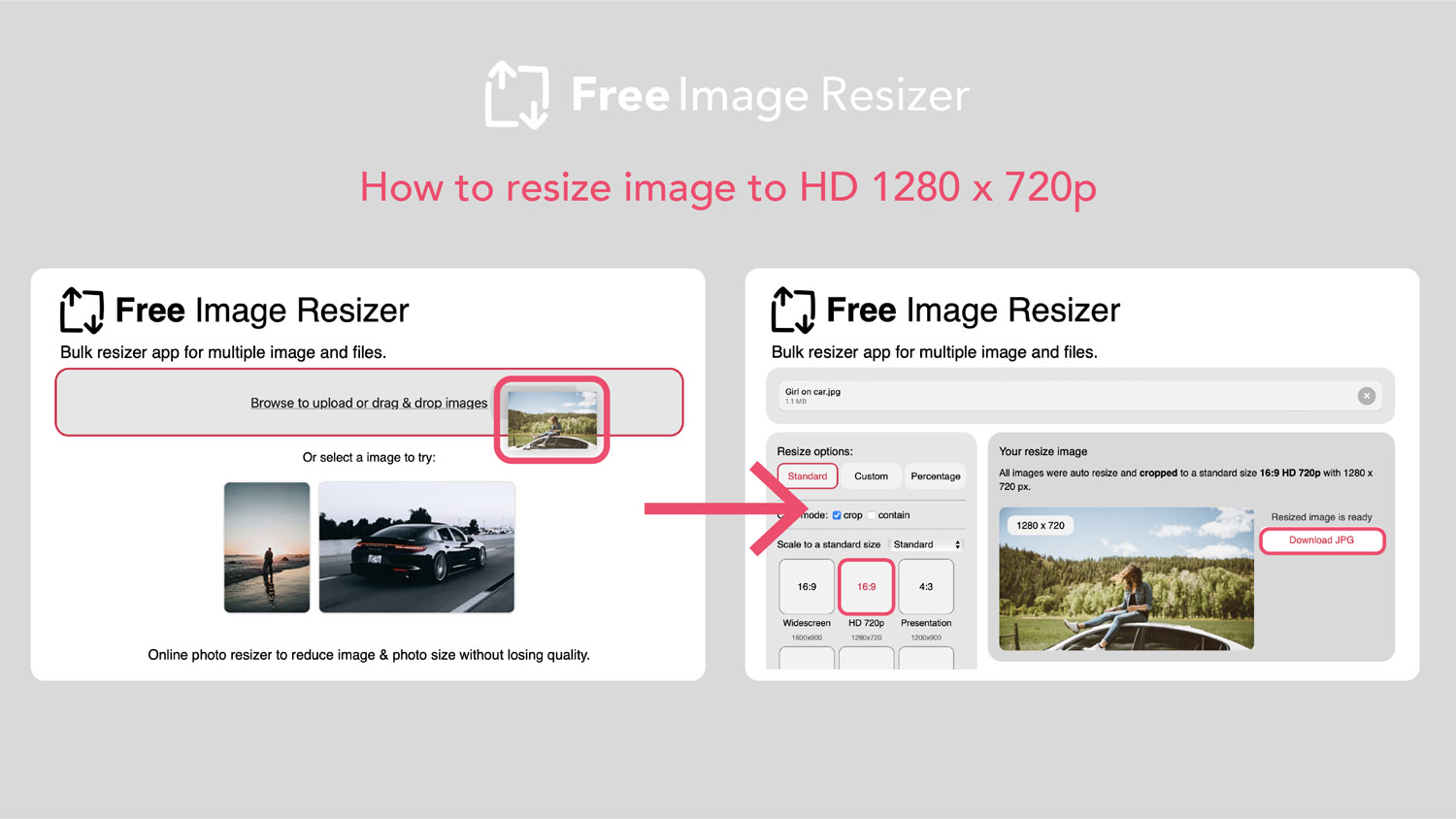 Our guide for photo resizing
Introduction
Images play a crucial role in various aspects of our lives, from social media to professional presentations. However, it can be challenging to find the right image and size for our specific purposes.
Thankfully, with the advent of user-friendly image editing applications like Free Image Resizer, resizing images to the desired dimensions has become easier than ever.
One popular dimension that is widely used across various platforms is 1280x720, also known as 720p or HD resolution. In this article, we will guide you through the process of resizing images to the precise 1280x720 resolution using a user-friendly free image resizer online app.
Why use 720p or 1280x720 in presentations
Images are used across a wide range of platforms, including websites, social media, presentations, and print media. Each platform or purpose often has specific requirements for image dimensions. Using images of incorrect sizes can lead to distorted visuals, slow loading times, or cropping issues. Resizing an image to fit the intended platform ensures optimal visual presentation and enhances user experience.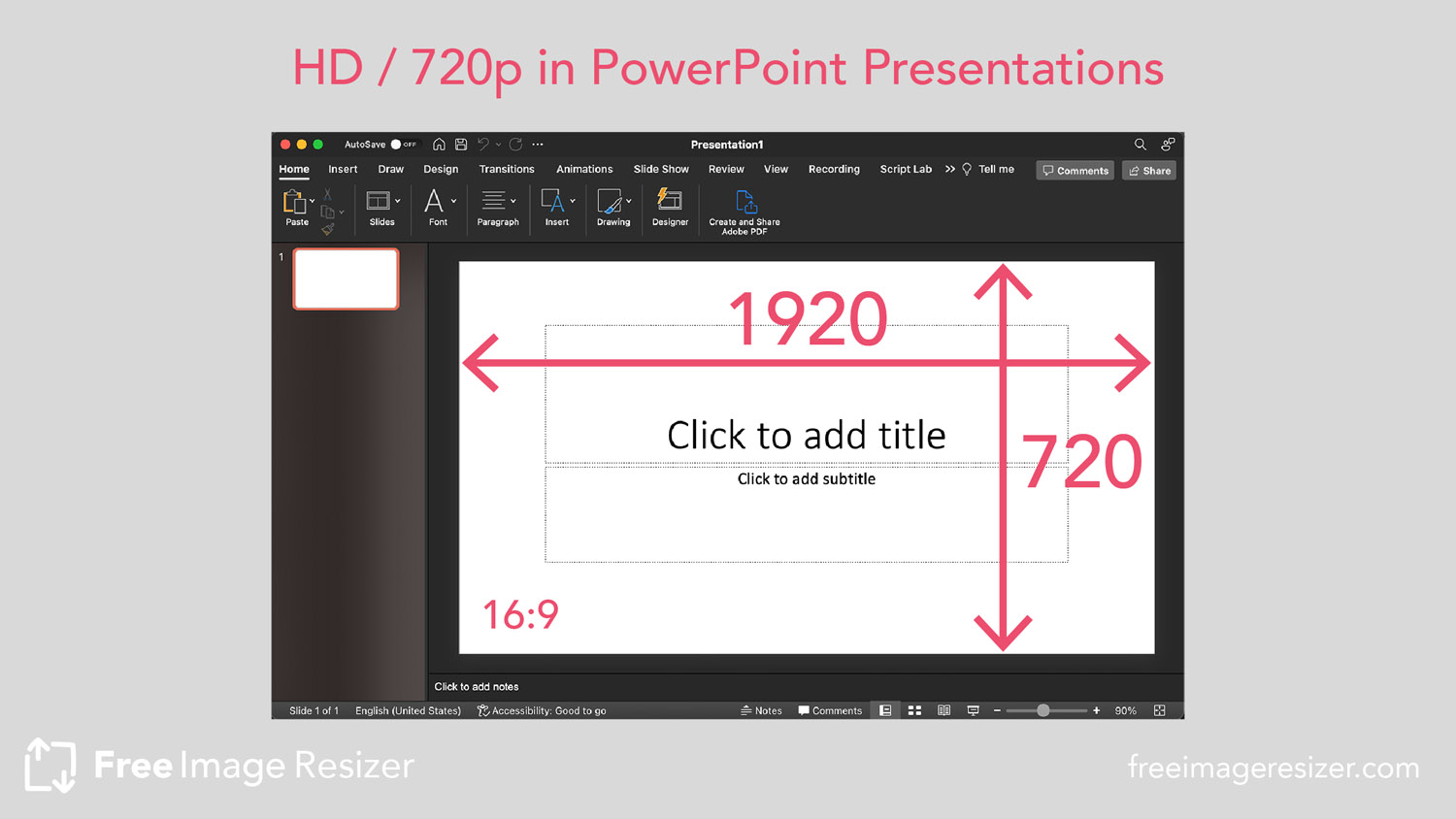 1280x720, commonly known as 720p or HD resolution, is a popular aspect ratio used in various digital platforms, including social media posts, video thumbnails, and website banners. But probably the reason why this format is so used widely is that presentations in 16:9 aspect ratio are usually made in 1280 x 720 px.
Resizing images to this dimension ensures compatibility, providing high-quality visuals without sacrificing file size or loading times. It strikes a balance between image clarity and bandwidth efficiency, making it a versatile resolution for a wide range of applications.
A step-by-step guide to bulk resizing images to 720 with an online tool
The FreeImageResizer boasts a user-friendly interface, characterized by its simplicity and ease of use. It provides a seamless experience for individuals of varying expertise to effortlessly navigate and leverage its functionalities. This application operates entirely online through your browser, enabling you to utilize its features without the need for software installation on your computer or device—all at no cost.
To resize your image to 1280 x 720 px, go to the app and follow these steps:
Step 1. Open the online tool Free Image Resizer and drag and drop your files
Simply access the Free Image Resizer through your preferred browser and upload your image files by dragging and dropping them onto the tool's interface.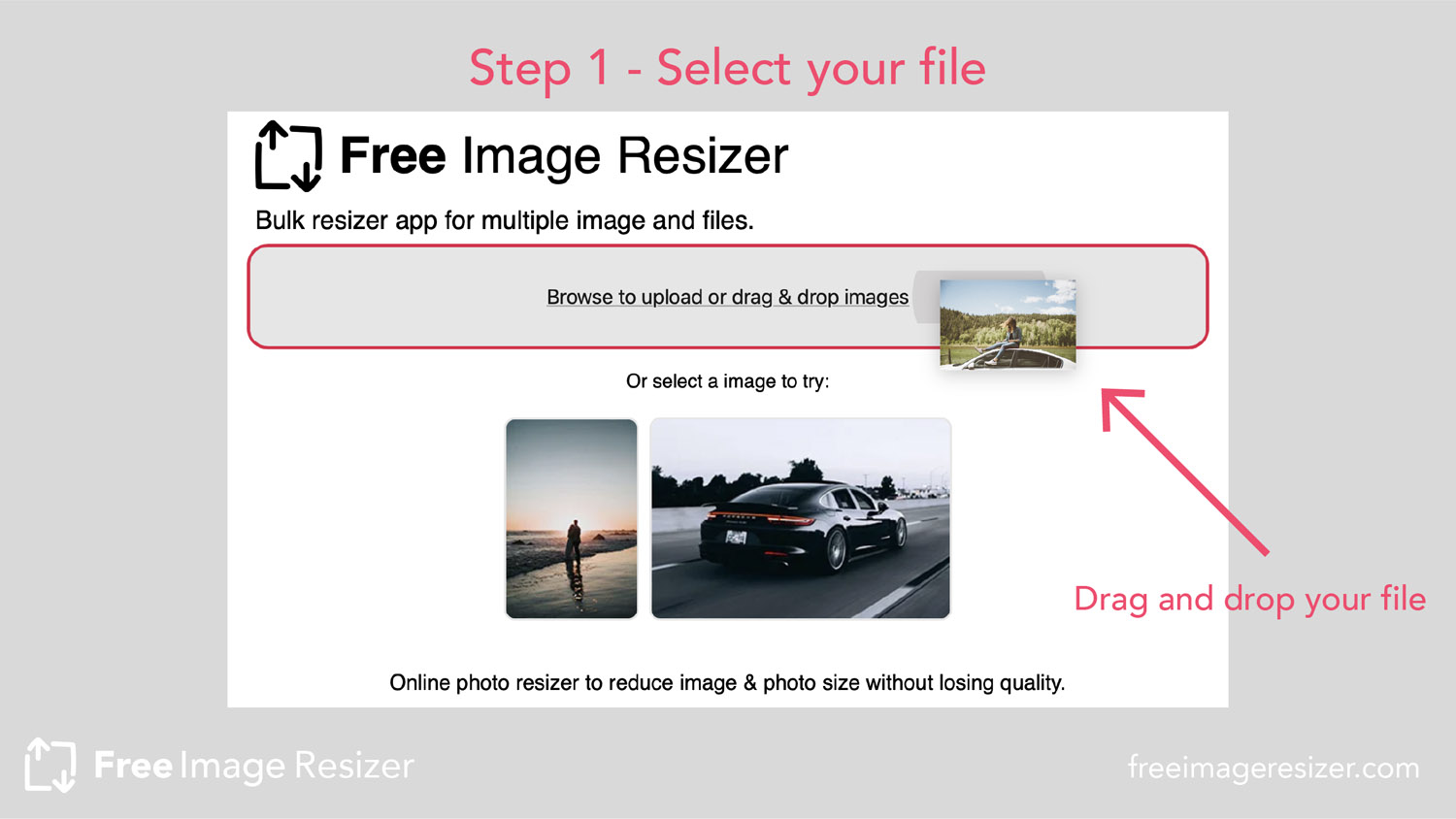 Step 2. Select one of the presets: 1280x720px
Once your files are uploaded, the Free Image Resizer provides you with various preset options to choose from. In this step, you can easily select the desired resolution of 1280x720 pixels. You can choose to crop or contain your image to fit the size.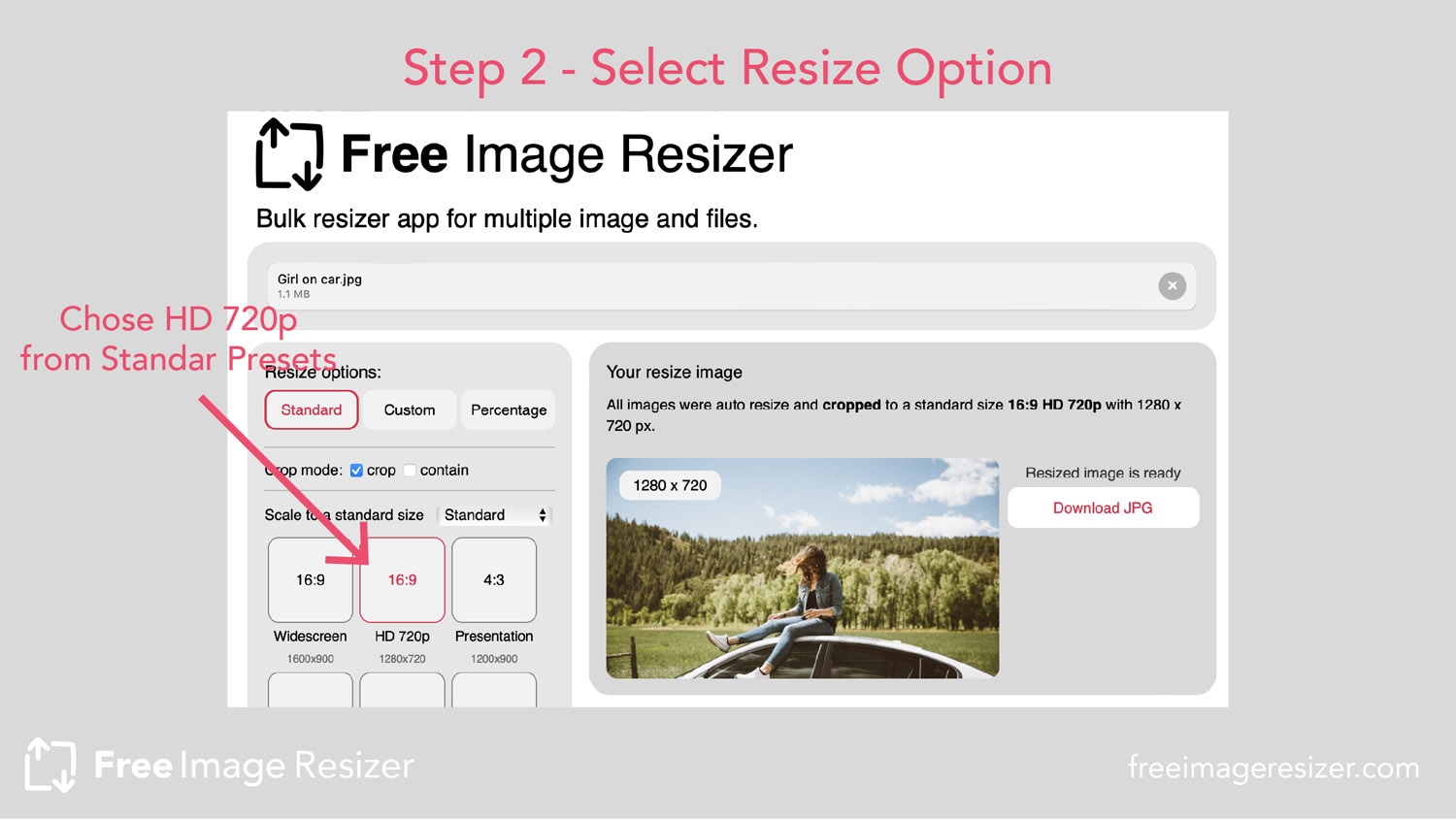 Step 3. Download your file
After you've selected the desired preset, Free Image Resizer processes your images instantly to the specified resolution. You can download your newly resized file and obtain your resized image to use it according to your requirements, whether it's for online publishing, social media, or personal use.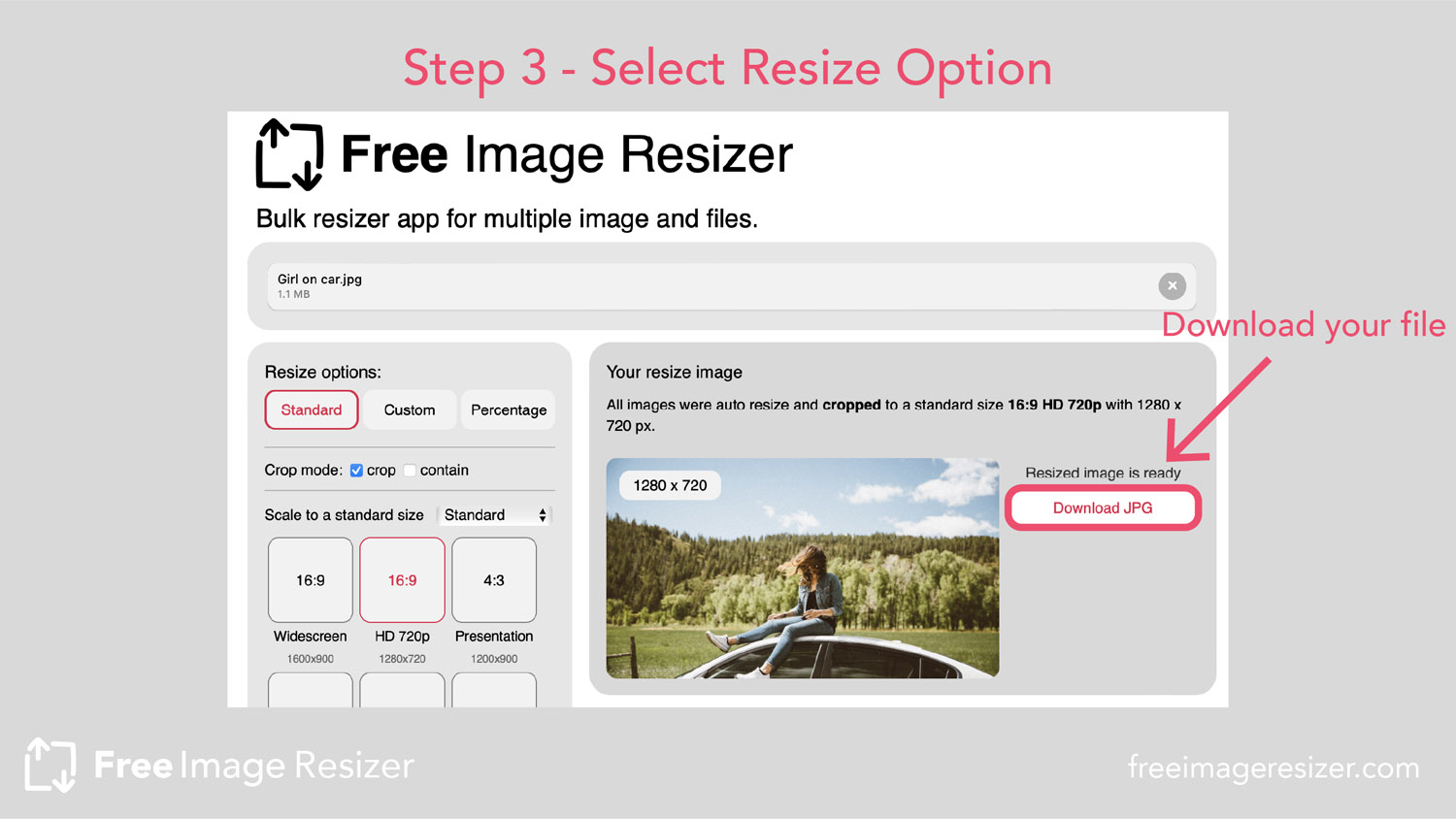 Conclusion
In conclusion, utilizing online tools for image resizing brings forth a myriad of advantages. These benefits encompass heightened convenience, user-friendliness, cost-effectiveness, faster processing times, reduced hardware requirements, and the ability to cater specifically to 720p resolution. While traditional software retains its value for intricate image editing tasks, online resizing tools prove to be an exceptional choice for individuals in need of a quick and seamless solution to promptly resize images, particularly to the widely used HD 1080x720 or 720p resolution. With these tools, users can efficiently adapt their visuals to suit various platforms and applications, all while enjoying the convenience and efficiency provided by online resizing capabilities.
Resize photos and images online to any dimension or size
You can pick other standard presets to free resize your images, including 1.91:1 Landscape, 4:5 Portrait, 4:3 Presentation, 9:16 iPhone, 3:2 Landscape, and 1:1 Square. Open Free Image Resizer from any Internet-connected browser, drag and drop your images, and pick a method and size to resize.
---